These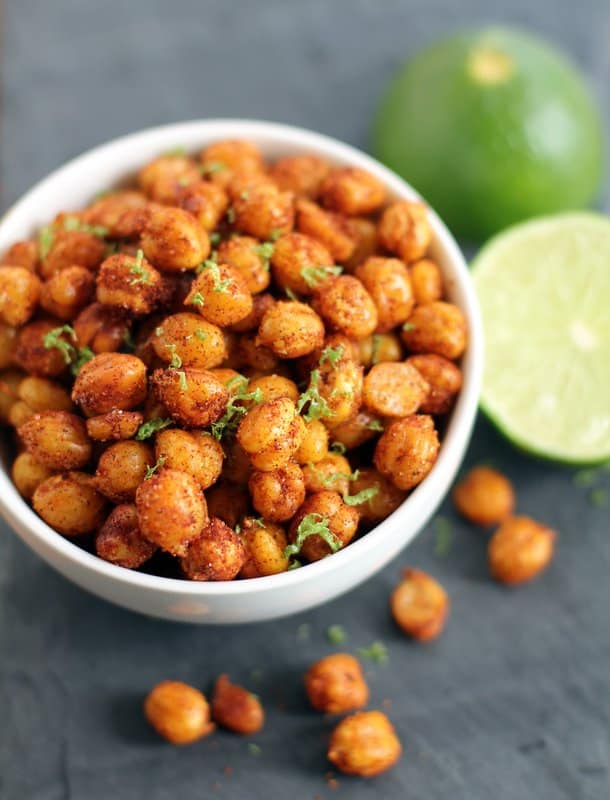 pan-fried chickpeas (also known as garbanzo beans) are great as a healthy snack. Pan-frying is also quicker than roasting in the oven. Start with the chickpeas and oil, and then customize with your favorite spices!
Makes 4 servings
Basic Ingredients         
2 tablespoons oil (olive, coconut, etc.),
       or enough oil to coat bottom of pan
1 (15 ounce) can chickpeas (garbanzo beans)
1/4 teaspoon salt
For curried chickpeas:                            For smoky lime chickpeas:
  1 teaspoon curry powder                         1 teaspoon smoked paprika
  1/4 teaspoon cumin                                 1 teaspoon chili powder
  1/8 teaspoon cayenne pepper                 1/2 of a lime
  Directions
Drain chickpeas in a colander and rinse with water. Pat dry with paper towels.
Melt oil in a large pan over medium-high heat until oil begins to shimmer. Carefully add chickpeas and salt to pan and distribute chickpeas in a single, even layer.
Let chickpeas cook for 2 minutes, then stir. Cook for another 5 minutes, stirring every minute or so.
Remove chickpeas from heat and stir in your chosen spice mixture.
Transfer to a plate lined with paper towels. If using lime, squeeze the lime juice and grate the skin of the lime (zest) over the chickpeas. Allow to cool for 5 minutes, then serve.